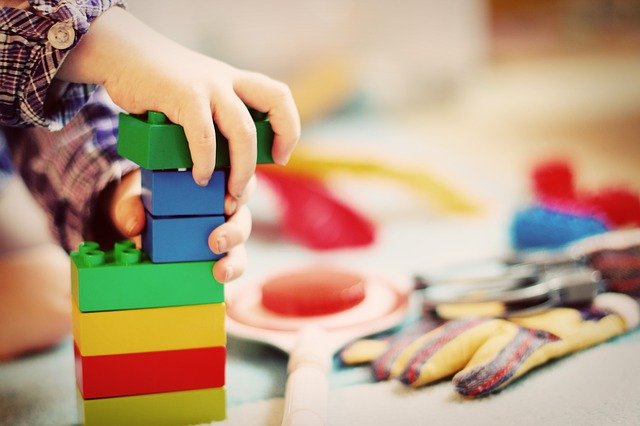 A huge section of your Christmas shopping list is probably for all the children in your life. Whether you're shopping for your own kids, your nieces and nephews, or any other tiny human, it can be overwhelming to figure out what to get them. Our deal editor and mom of 3 Marisa has put together an extensive list of toy ideas for you to browse. Find STEM toys, arts & crafts ideas, or browse gifts by age.
In This Post
Where to Shop
All Around Top Toys
Top STEM Toys

For Preschool
For 5-7
For 8-12

The Best Building Sets
Top Arts & Crafts Toys
Shop Toys By Age

Top Toddler and Preschool Toys
Top Toys for Kids Ages 5-7
Top Toys for Kids Ages 8+
Where to Shop
Each year we browse all of the Black Friday ads and websites of our favorite toy retailers to find the best ideas and the best prices. This year our favorite toy deals were from these stores:
Amazon is a great all-around option especially if you need it quickly. Target and Walmart will both match Amazon's pricing, but they may have limited stock.
Marisa suggests checking Kohl's for any big-ticket toy purchases, like the Nintendo Switch, because they're offering $15 Kohl's Cash for every $50 spent during their Black Friday sale which starts on 11/21. She also recommends JCPenney for their Black Friday toy specials this year, which begin on 11/26 online and in-stores.
Also of note is Macy's, who as of this year, has partnered with Toys R Us to bring back the iconic kids' toy store. As of now, you can shop toys online, but they hope to open 400 shop-in-shop toy stores by 2022.
All-Around Top Toys
Below are our picks for the top toys this year. We've included pricing, but please note that it is subject to change. Prices vary, especially at Amazon, this time of year so the price listed below was the price during the time of posting this list and may have since changed.
Lego STEM Kits
You can find both the KLUTZ Lego Make Your Own Movie Kit ($19.68) and the KLUTZ Lego Gear Bots Science Kit ($14.99) at Amazon. These kits use engineering and stop motion and have step-by-step guides.
Big Kinetic Sand Kit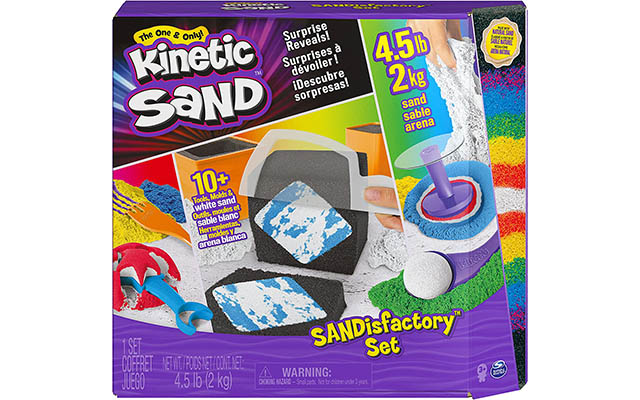 For ages 3 and up, this Kinetic Sand kit comes with 4.5 pounds of sand in multiple colors and includes a rare white color. There are 10 tools and molds included and it is an Amazon exclusive ($29.99).
Crayola Light Up Tracing Pads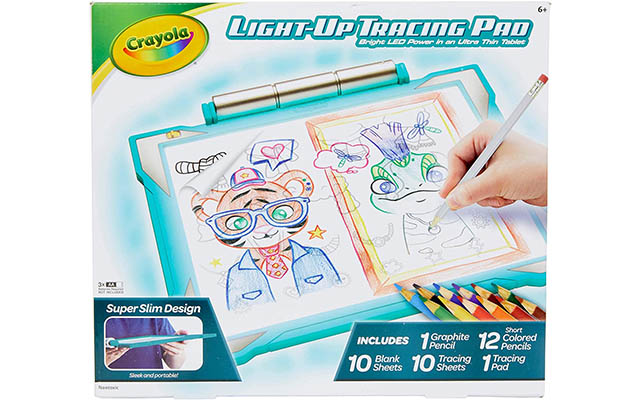 This LED drawing tablet ($25.99) has illuminated pages makes it easy for kids to trace and help teach kids to draw. Also included are colored pencils, tracing sheets, blank sheets, and a graphite pencil.
Animatronic Baby Yoda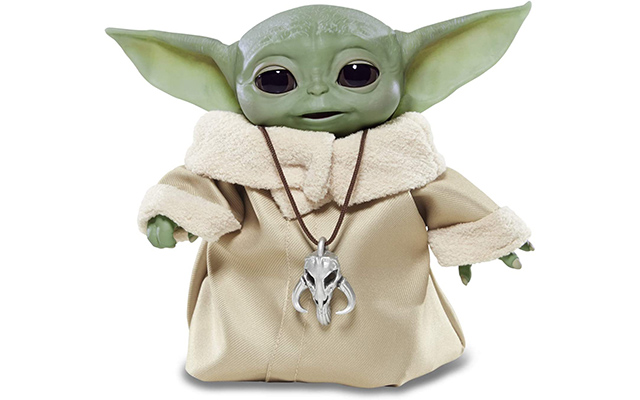 For the Star Wars and Mandalorian-loving kiddos, this Animatronic Baby Yoda toy ($59.99) is 7.2 inches tall and performs over 25 sound and motion combinations.
Kohl's has a similar talking Baby Yoda toy with a smaller price tag ($26.49).
Barbie Dream House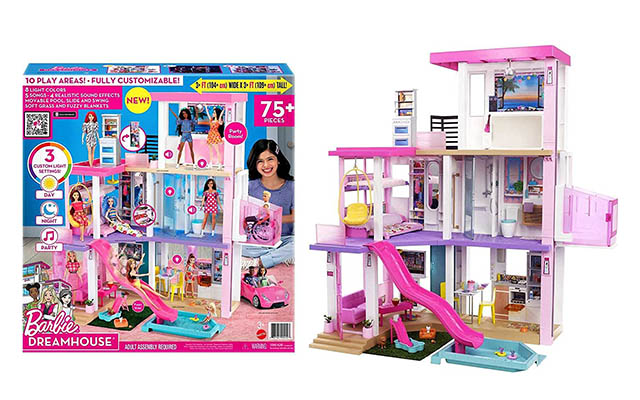 A Christmas present classic, the Barbie Dream House ($199) is over 3 feet tall and comes with over 75 pieces and accessories. There are customizable lights and sounds, a pool, and even a puppy play area for Barbie's fur babies.
Hot Wheels Ultimate Garage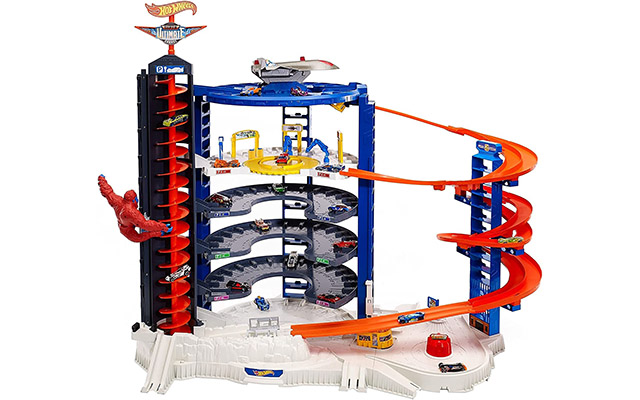 Another classic for the car-loving kids on your list, the Hot Wheels Super Ultimate Garage ($193.99) has room for over 140 Hot Wheels Cars. It's over 3-feet tall and has a motorized elevator, side by side racing, and an angry gorilla testing their driving skills.
Top STEM Toys
If you've got a little one interested in STEM, these toys would look beautiful wrapped under your Christmas tree. Shop our top STEM picks by age and enjoy watching them learn and play at the same time.
For Preschool: Magnetic Robots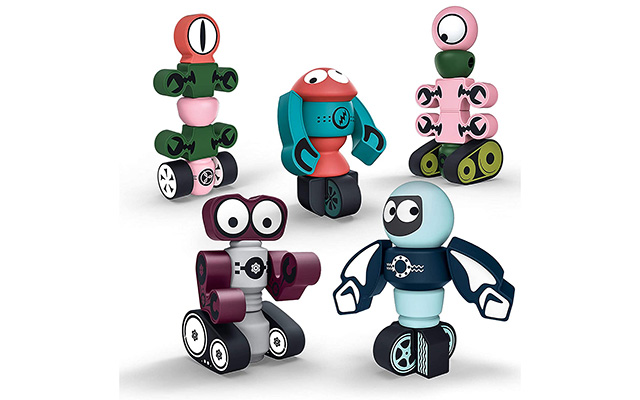 A 35-piece stacking magnetic robot set ($23.99) for kids to build five different robots. Kids learn shapes, creativity, and problem-solving skills. A storage box for all of the pieces is also included.
For 5-7: Light-Up Terrarium Kit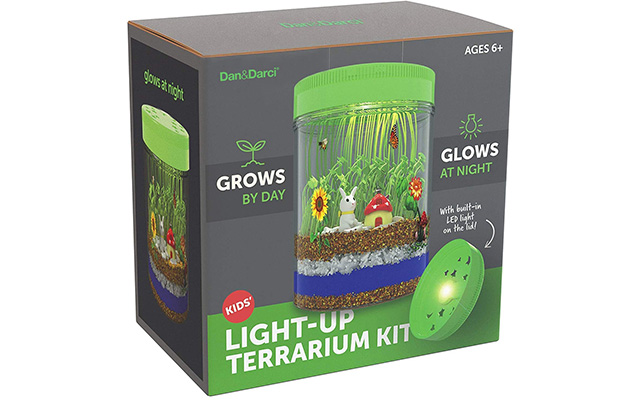 This glowing LED terrarium kit ($24.99) allows kids to watch things grow into a tabletop garden. Everything you need is included, including the micro-USB cable for charging.
For 8-12: ThinkFun Gravity Maze Marble Run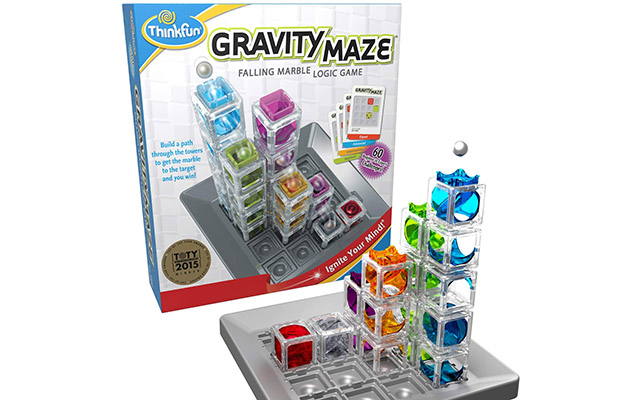 This brain game and STEM toy marble maze ($29.99) is a Toy of the Year Award winner that helps kids 8 and up develop critical skills like logic, spatial reasoning, and planning.
The Best Building Sets
LEGO sets are always popular for Christmas and they've got something for everyone. Whether your child likes baking, space travel, or Star Wars, we've got you covered with these building toy suggestions.
Lego Friends Baking Competition Set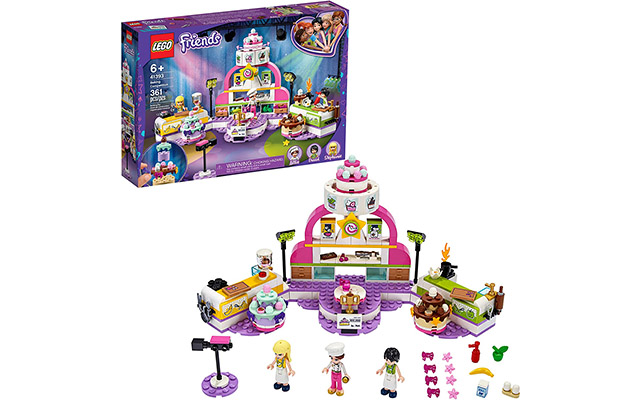 A 361-piece Lego set for kids who enjoy building and baking! This baking competition-themed set ($31.99) has 3 characters, toy cakes, baking accessories, and more.
Lego Mars Shuttle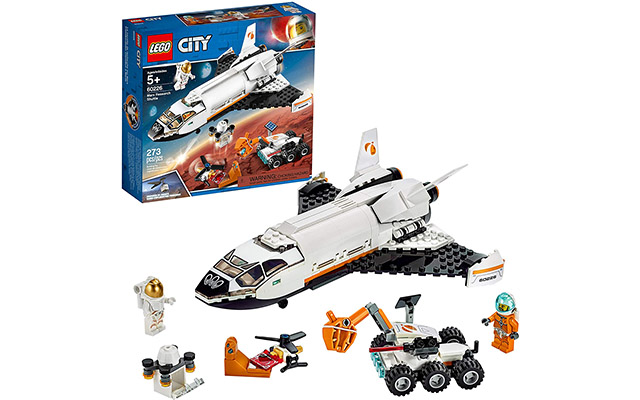 Also a top STEM toy, the Lego City Space Mars Shuttle ($31.99) is a 273-piece collection with 2 astronauts, a helidrone, and a storage drone.
Lego Mandalorian Troopers Speed Bike Set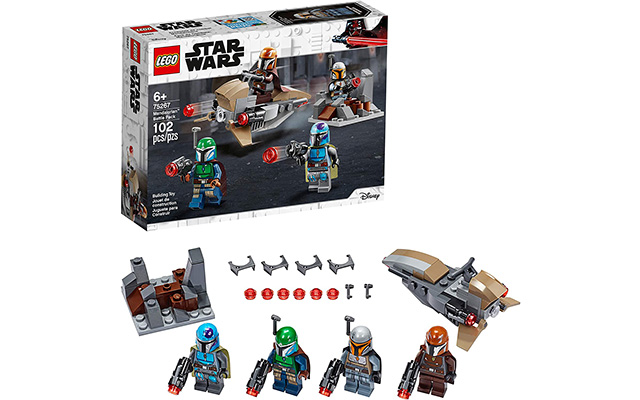 Another great gift for fans of The Mandalorian, kids can build a defense fort and a stud-shooting speeder bike. This set ($10.99) also comes with four Mandalorian figurines.
LEGO Super Mario Starter Course Building Kit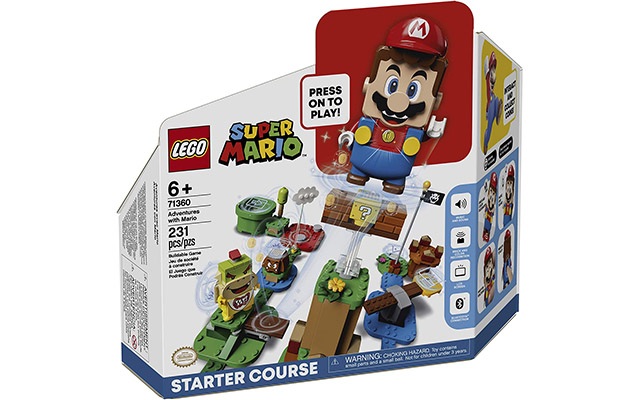 Get your kids started with the Super Mario LEGO universe using this interactive set ($47.99). There are seven different interactive bricks and LCD screens for 100+ reactions.
Stocking Stuffer: Super Mario Character Packs Series 3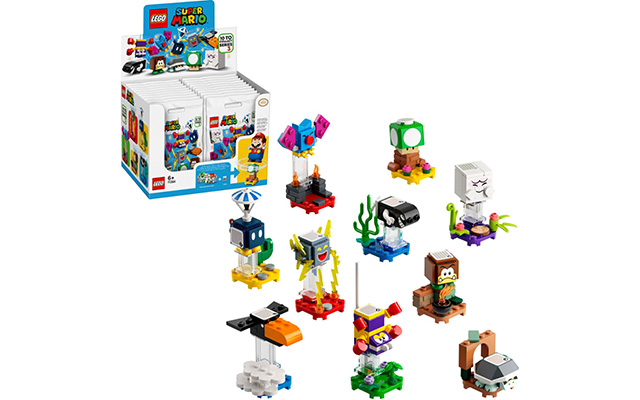 If you already have the LEGO Super Mario kit or just need a stocking stuffer to go along with, this character pack ($4.99) features a mystery character that works with the starter set listed above. There are 10 collectible characters.
Top Arts & Crafts Toys
If you've got creative kiddos in your family, these toys are excellent for allowing them to practice and grow their art skills. Whether they're into painting, sewing, or drawing, we've got some great recommendations for Santa this year.
Crayola Scribble Scrubbies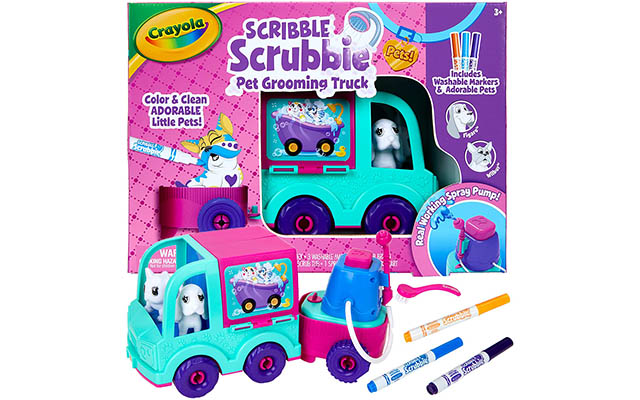 These little Scribble Scrubbies ($19.97) can be colored with special markers and then washed and played with again and again. There are expansion packs and replacement markers sold separately.
Make a Bunny Friend Craft Kit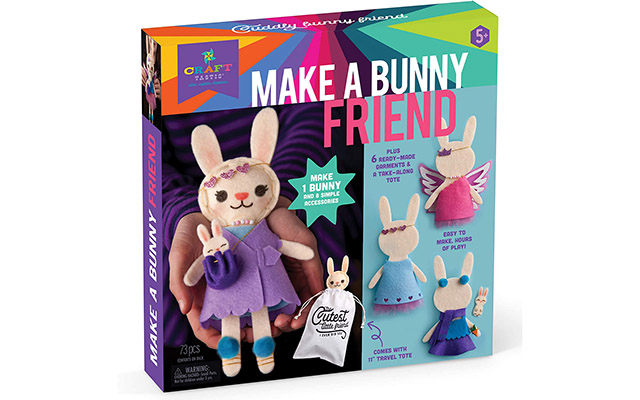 Kids can learn to sew with this cute bunny stuffy ($16.65) and her 6 outfits. There are pre-cut holes for easy sewing and everything you need is included.
Paint by Sticker Kids: Zoo Animals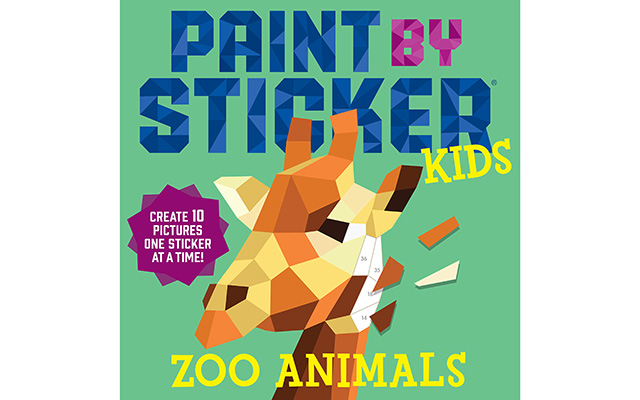 All they'll have to do to complete the Paint by Stickers ($8.44) is find the right sticker, peel it off, and stick it in the right spot! The pages are perforated so you can display their finished artwork.
Glow In The Dark Rock Painting Kit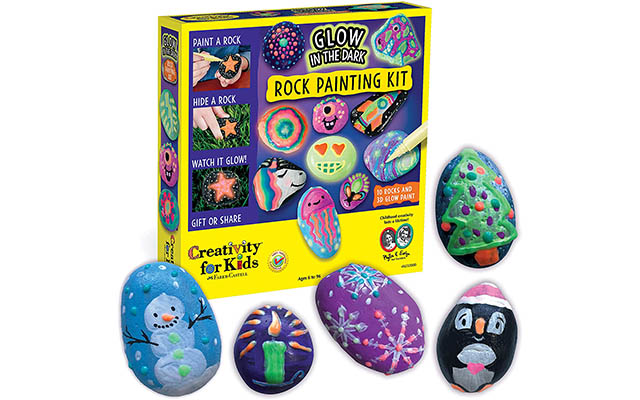 This glow-in-the-dark rock painting set ($12.59) includes 10 rocks, glow-in-the-dark paint, and instructions on how to hide rocks outside for your community to find.
Shop Toys By Age
Below is our Christmas toy shopping guide by age. We've got suggestions from preschool up to age 10 with lots of options depending on your children's interests. Some items are hard to find and note that the prices listed are subject to change, but were accurate at the time of posting.
Top Toddler and Preschool Toys
Our top holiday toys for kids ages 18 months to 4 years. We know it can be hard to find toys that keep toddlers busy, so we hope these are as much a gift for parents as they are for the kids!
Learning Resources Spike The Fine Motor Hedgehog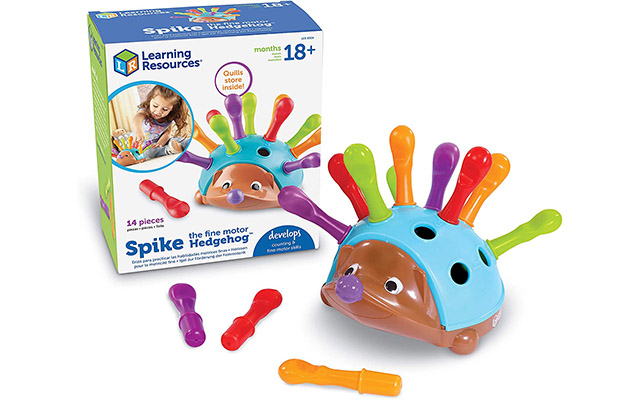 Build fine motor skills with this colorful hedgehog ($12.62). Kids 18+ months, the chunky peg-shaped pieces are great for counting, sorting, and even occupational therapy exercises.
VTech Pop-a-Balls Push & Pop Bulldozer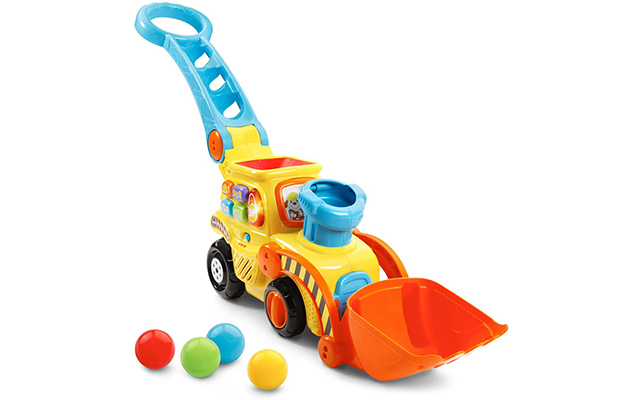 Young walkers can push the handle to bulldoze balls across the floor. This bulldozer ($17.99) has buttons to learn colors, numbers, and phrases and helps with coordination and motor skills.
LeapFrog 100 Animals Book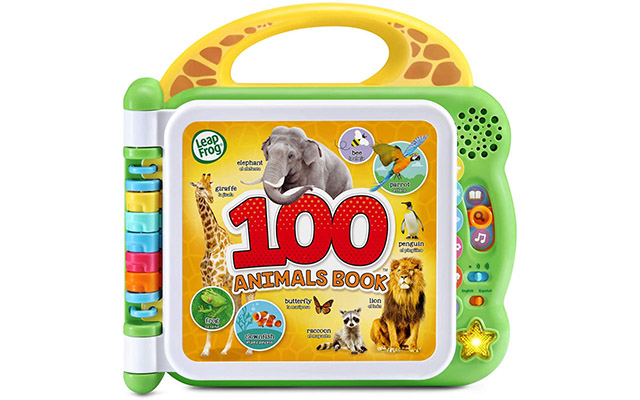 An interactive you for 18+ months, this bilingual book ($15.99) has six double-sided pages that teach about the forest, ocean, and seashore in English and Spanish.
Bluey Mega Bundle Home Playset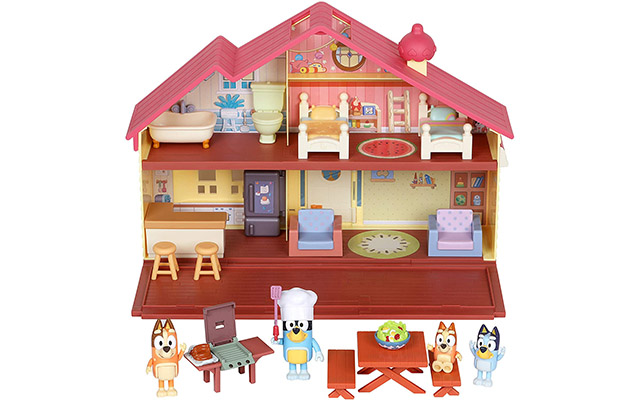 If you've got some Bluey fans at home, this mega bundle playset ($59.99) has 4 different rooms and comes with all 4 family member figurines.
PAW Patrol Dino Rescue Dino Patroller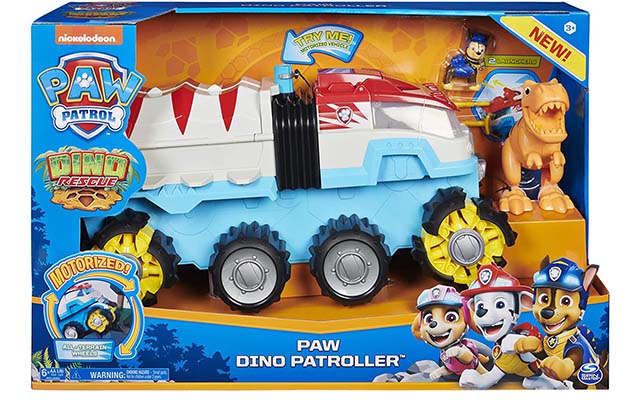 The Dino Patroller ($59.99) is a motorized vehicle that is on the move with the push of a button. It launches rescue nets and comes with a Chase figurine, dinosaur, and two projectile nets.
Peaceable Kingdom Feed The Woozle Game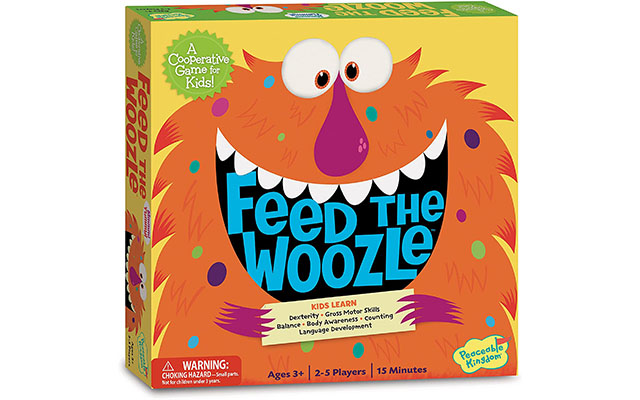 A game that grows with your kids ($21.79), choose from three playing levels to teach them dexterity, fine motor skills, counting, and cooperating.
DINOBROS Dinosaur Toy Pull Back Cars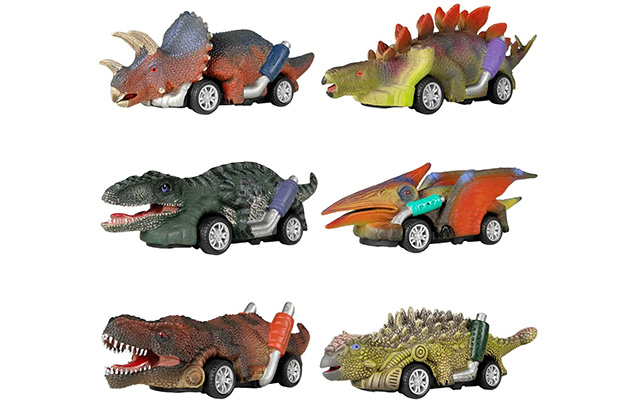 These pull-back cars ($16.99) feature dinosaur body shapes and at 5″ long they are the perfect size for 3-5 year old dinosaur lovers.
Baby Alive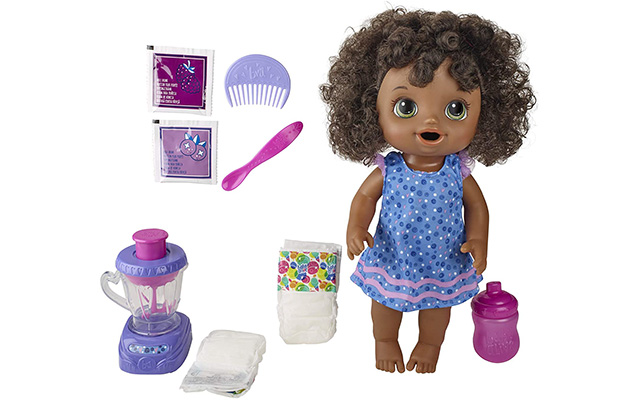 Always a favorite, these Baby Alive dolls can eat, drink, wet. The Magical Mixer set ($22.49) comes with a blender, cup, spoon, food for baby, and diapers.
Top Toys for Kids Ages 5-7
Here are our top toy picks for younger school-aged kids. These will have smaller parts and a little more action compared to our list for the younger tots.
Barbie Color Reveal Doll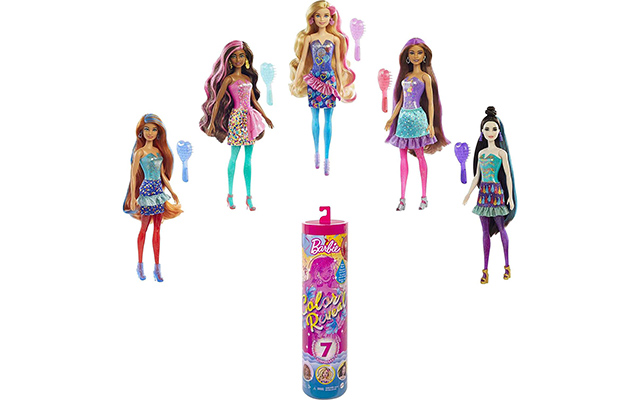 The Color Reveal Barbie ($12.99) comes in a screw-top tube and is covered in a metallic silver coating. Place her in water and watch as she reveals a surprise eye color, skin tone, and hairstyle.
Toy Rocket Launcher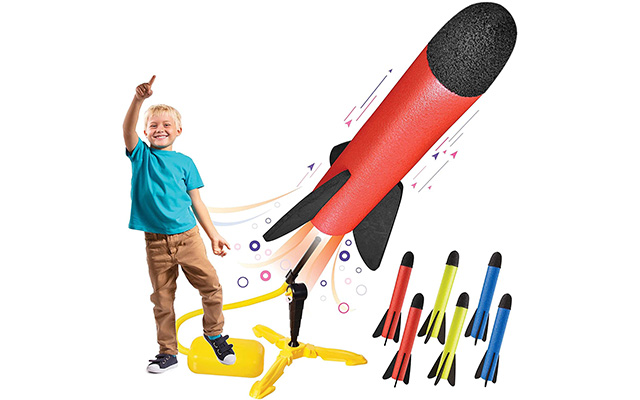 Kids can shoot rockets up to 100 feet in the air with this launcher ($22.99). Just jump on the pump and watch as one of the 8 included foam rockets soar.
Hatchimals Crystal Flyers Magical Flying Pixie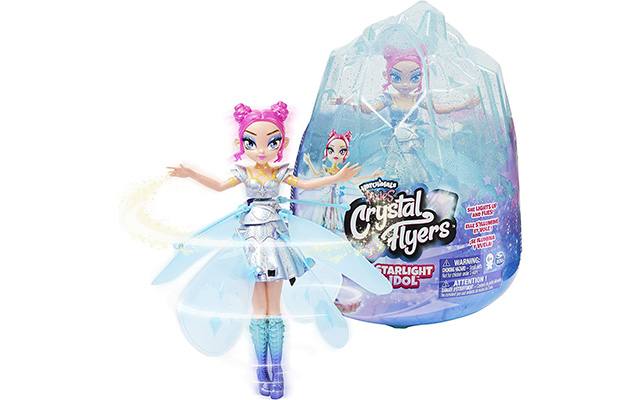 Hatchimals Crystal Flyers ($26.99) light up using LED lights and will fly by using her launching pad or by lifting her into the air. There is an auto-stop feature if you touch her wings and she can be charged using a USB cable, which is included.
Heroes of Goo Jit Zu Water Blast Pack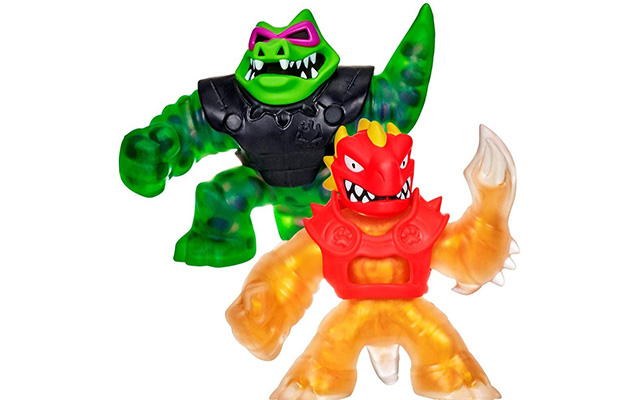 These squishy, stretchy heroes ($19.99) are filled with squishy beads and can be filled to squirt water. The Rockjaw character is exclusive to this pack at Amazon.
TEMI Dinosaur Toy Figure Activity Play Mat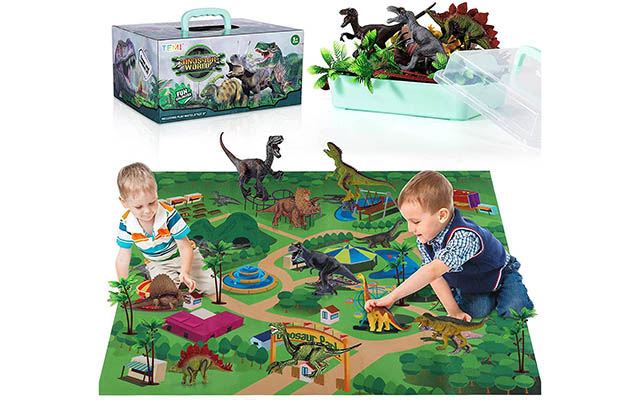 A 31.5″ x 27.6″ activity mat ($29.99) and nine dinosaur figures make for a fun and creative toy. There is a handled carrying case for easy transport and the mat is made of non-toxic, durable PVC.
Interactive and Electronic Pokémon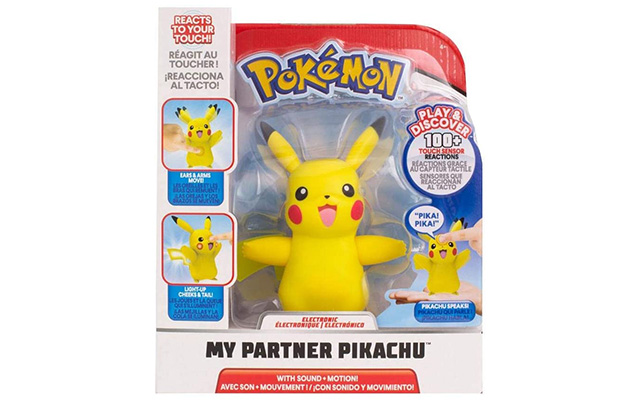 This interactive Pikachu ($16.99) has over 100 different interactions using lights and sounds. Moving ears and arms and three different touch sensors allow your kids to play with this Pokémon in lots of different ways.
Orboot Earth Interactive AR Globe For Kids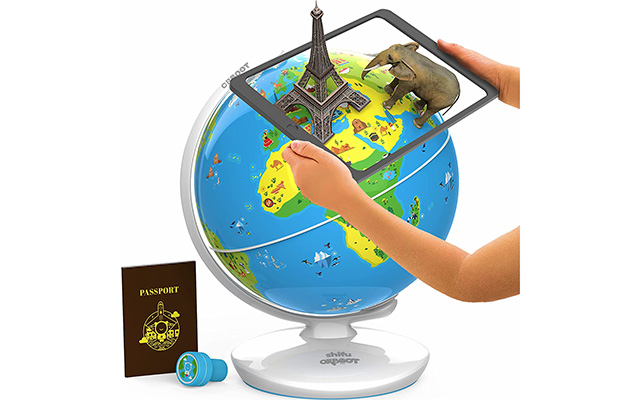 An educational smart globe ($54.99), this augmented reality toy allows kids to hover over countries using a paired smart device and learn about animals, cultures, monuments, inventions, maps, and cuisines of the world.
Pressman Charades for Kids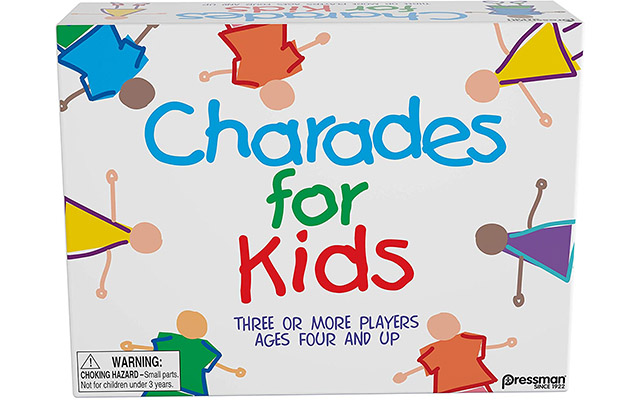 No reading is required for this children's version of the classic game ($7.99). There are three different levels of play to allow younger players to participate along with challenging older players.
Top Toys for Kids Ages 8+
Last but not least, here are our holiday top toys for your older kids. We've got a few educational toys on this list and a few classics for the whole family to enjoy.
Air Hogs Zero Gravity Laser-Guided Wall Racer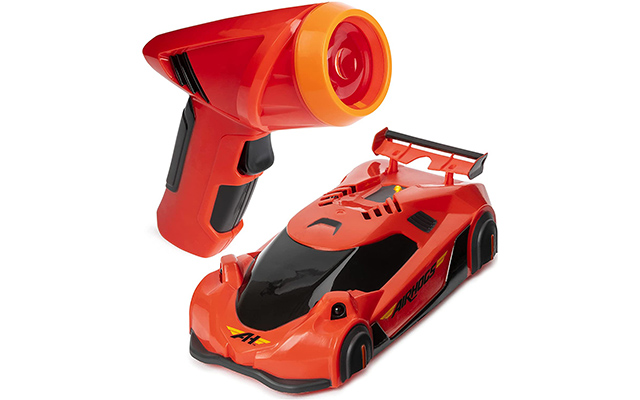 Kids can drive this car ($29.99) up any smooth surface, including walls! Just point the laser anywhere you want the car to go and watch it speed and spin around.
Sillbird STEM 12-in-1 Education Solar Robot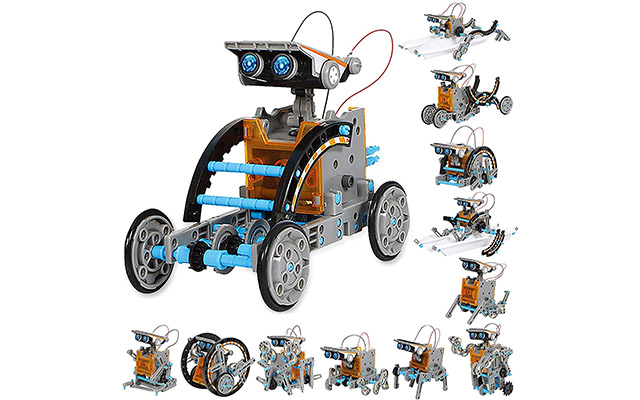 Children can build 12 different types of robots with 2 different complexity levels. No batteries are required as the robots are solar-powered and the kit ($29.99) includes a solar panel. Great STEM toy for kids ages 8-10.
GirlZone Hair Chalk Set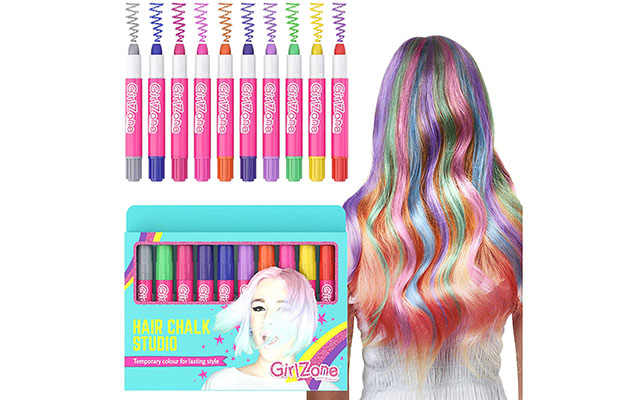 There are 10 colorful temporary hair chalks ($13.95) and each chalk lasts for about 80 applications.
Harry Potter Build a Wand Coding Kit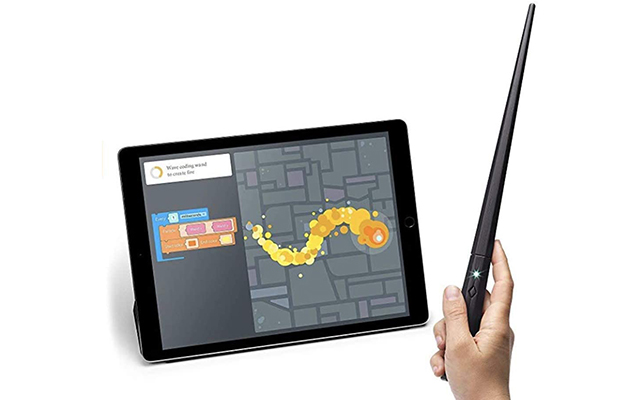 With 70+ step-by-step creative challenges, kids can learn to code to make feathers fly, goblets multiply, fire flow, pumpkins grow, and more. This wand ($14.95) requires Bluetooth Smart 4.0 or newer and is compatible with select devices running both iOS and Android as well as Windows or Mac OS.
Kids Against Maturity Card Game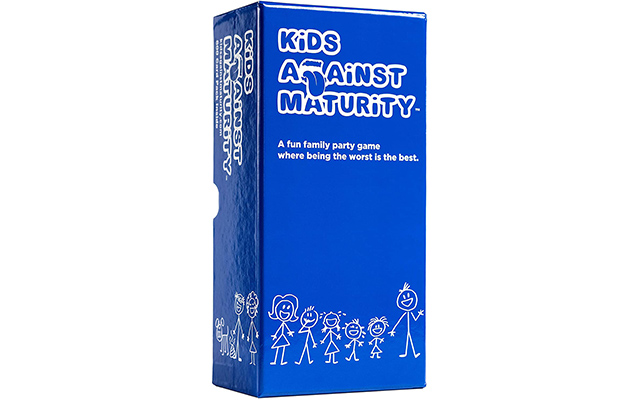 Designed for kids 10+ but fun for adults too, this family game ($29.99) combines fill-in-the-blank gameplay with age-appropriate toilet humor and some funny innuendos that only adults will understand.
Activ Life 2-Tire Pack LED Bike Wheel Lights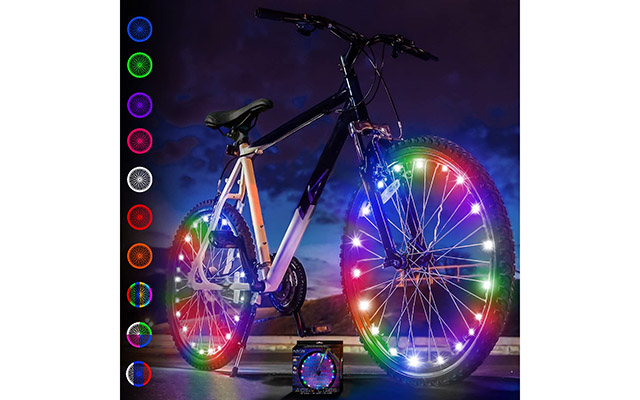 As seen on NBC, ABC, CBS and FOX, these LED bike wheel lights ($25.99) light up your bicycle spokes, rims and tires and make a fun gift for bike riding kiddos.
NERF Elite 2.0 Commander RD-6 Blaster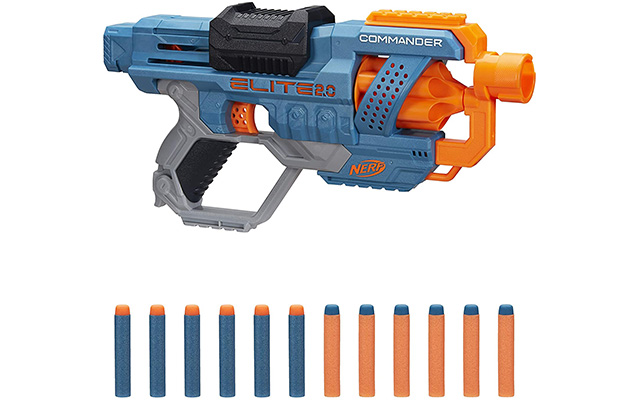 Kids can fire this blaster ($9.98) by pulling the priming slide back and pressing the trigger to fire 1 dart. Or slam-fire all 6 darts rapidly by holding down the trigger and repeatedly moving the slide back and forth.
WowWee Lucky Fortune Blind Collectible Bracelets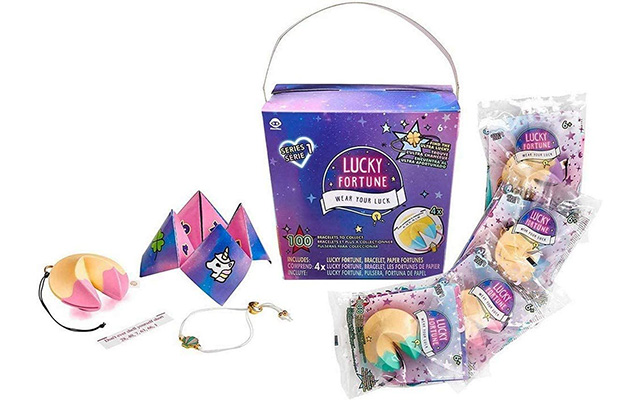 Each package contains a bracelet holder in the shape of a fortune cookie and a surprise Lucky Fortune charm bracelet with a matching paper fortune. This pack ($9.99) includes 4 cookies and 4 bracelets.
There you have it! Our 2021 Holiday Top Toys Guide for kids of all ages. Will you be shopping for any of these toy deals year? Do you have any to add to our list? Let us know in the comments!